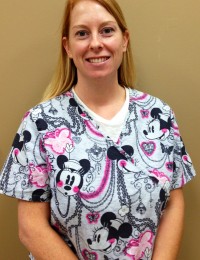 Patti has been with the Downsview Veterinary Hospital since 2009 and she is our Registered Veterinary Technician. Patti graduated from Georgian College in 2009, where she received honors in the Veterinary Technician Program. She has always been passionate about animals and truly believes that she has the perfect job.
Patti not only has knowledge in animal breeds and their respective characteristics, she's also very knowledgeable in animal health and nutrition. Patti has an interest in surgery and anesthesia, and strives to stay on top of new and emerging techniques in this area with continuing education and extra training.
When Patti is not at Downsview she lives just outside of Thornton with Bella her Collie mix and her two cats Sarah and Gizmo. Patti's interests include reading, horseback riding, camping, movies, traveling and spending time with friends.